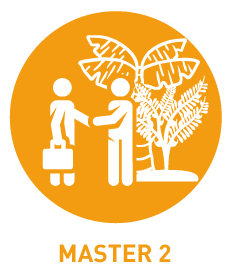 International MSc in Environmental Management of Tropical Ecosystems and Forests (GEEFT)
The Environmental Management of Tropical Ecosystems and Forests (GEEFT) track of the International Master's Degree in Science and Technology for Agriculture, Food and the Environment (ST2AE) prepares students to take up the
challenges of managing forests in tropical countries
by giving them the means to confront forestry knowledge and the
ecological specificities
of these environments with the
socio-economic and political issues
of the intertropical zone.
The ST2AE international Master's degree offers a systemic approach to agriculture, the environment and food, and develops a teaching method that is directly linked to the professional sectors. This Master's degree is co-accredited by
AgroParisTech
,
Institut Agro Montpellier
and
Institut Agro Rennes-Angers
.
This course is supported by the GEEFT engineering major at AgroParisTech. More information
HERE
(in French).

These courses prepare students to meet the challenges of ecosystem management, in particular tropical forest ecosystem management, and enable them to apply their theoretical ecological knowledge to the socioeconomic and political challenges of the intertropical zone. The role currently played by tropical ecosystems in sustainable development processes raises complex issues. Tropical ecosystems are now subject to greater pressure than ever before from the exploitation of their resources and the appropriation of the land. These ecosystems are of local, national and international importance for the environmental services they provide (preservation of biodiversity, regulation of the mechanisms that govern climate change, fight against desertification and regulation of hydrosystems). They are often essential for the survival of the local populations and the fight against poverty and have to meet many conflicting demands that are sometimes difficult to reconcile in situations where state control is often weak.

Managing these ecosystems, therefore, requires, on the one hand, an understanding of the ecological and technical challenges for controlling deforestation and preserving environments, species and ecosystem functions and, on the other hand, an understanding of the major changes in public and private management practices, occurring in an increasingly globalised economy.

Professionals who are confronted by these issues must have a sound educational grounding providing them with knowledge and skills in ecological, forest and agro-forestry sciences as well as in social, economic and management sciences. They need to take account of the many different stakeholders involved in the management of these environments, including local, often underprivileged, populations, the emergence of new forums for discussing management methods which go beyond national and local decision-making scales and the weakening of state control. In order to evaluate the options available for managing these environments, students must develop a critical approach and the ability to innovate in multi-cultural situations.